The picture below was scanned from a rare stone lithograph of downtown Los Angeles, cut in 1853, known as the "Survey View." The view is from Fort Moore Hill looking east, toward the river.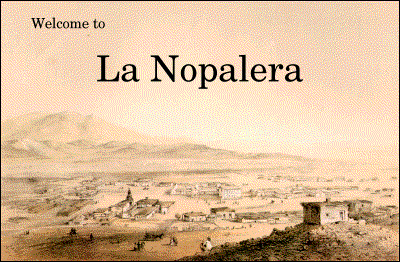 Welcome to La Nopalera. Nopal translates to "prickly pear cactus," so Nopalera is the "place of the prickly pear cactus" or, more simply put, the "cactus patch." It was the first name of the area that later became Hollywood, California.
In this cactus patch you'll find a hodge-podge of information on genealogy, local history and felines. I hope you'll find your visit educational and entertaining.
(If you do
not
see the navigation bar to the left, please click
here
)
---
There have been visits to this site since January 2000. Thank you!
N.B. Please note that this website La Noparera has been moved to a new domain, i.e., from lanopalera.net to the new lanopalera.org, due to insurmontable problems which developed with the hosting service macserve.net. The new hosting service is inmotionhosting.com.
You will see no changes because lanopalera.net is now set to directly invoke lanopalera.org, so entering www.lanopalera.net in your browser will immediately display lanopalera.org. Entering www.lanopalera.com and www.lanopalera.info will now also display lanopalera.org.
N.B. PAWriter will NOT be supported on any macOS later than Mojave, since PAWriter is a 32-bit app and Mojave is the last macOS version that will run 32-bit apps. As stated elsewhere, PAWriter was developed for my use and I decided to share it with anyone who might be interested. However, for personal reasons I am no longer available to convert PAWriter to a 64-bit app. Thus Mojave is the end of the line for PAWriter. No further updates to PAWriter will be made.
I suggest that you convert your PAWriter data file to a GEDCOM file (specify for another program) and choose an alternate genealogical program into which you can import that GEDCOM file – perhaps MacFamily Tree 8, into which one user reported he successfully imported his GEDCOM file from PAWriter.
FYI: The last macOS version that runs PAWriter without any known problems is 10.11 El Capitan, the one after 10.10 Yosemite and before 10.12 Sierra. A personal note – I have PAWriter installed under El Capitan on an older spare iMac for my personal use. I probably could boot on my current iMac from an El Capitan backup external disk (I still have the El Capitan install apps for 10.11 and the 10.11.6 combo update) and run PAWriter, but that's not necessary with my equipment configuration. In any case, these are alternate options that you might choose to use rather than move to another genealogical program.
Please email me with any comments and questions.
---

This website was created on 15 July 1998 and updated on 18 February 2003 replacing a draft of the Metcalf book with a five-generation Register (see Metcalf Register to the left). The published book contains nine generations of Leonard's descendants with the source citations not present in this Register. The book, Some Descendants of Rev. Leonard Metcalf, is now available for purchase on the website, www.HeritageBooks.com. The New England Historic and Genealogical Society News (#130, 5 Sept. 2003), announcing the acquisition of the book by the NEHGS library, noted that "The author has compiled an extensive genealogy of Michael Metcalf, who arrived in America in 1637," stating that "This massive book is well documented . . . The index and bibliography total well over 100 pages." The book is xxii + 768 pages hardbound.
Many, many thanks again to all of you who provided me with contributions. Your names appear on the title page, in the acknowledgments and wherever possible in the text.
A second edition is in the works and publication on CD-ROM is possible in a couple of years. My current effort is focused on additional descendants as well as many additional source citations. Further contributions (and corrections to the first edition) would be greatly appreciated. The second edition will consist of three PDF volumes. Volume I will contain introductory material, some descriptive material and the bibliography — 76 pages and cover. Volume II will contain the register of the first eight generations — 2336 pages and cover. Volume III will contain the register of the ninth generation — 2097 pages and cover. The size of volumes II and III will increase.
A Little Royalty was updated on 16 February 2004.
Broken links in Related Web Sites under Genealogy and Los Angeles History were fixed on 23 February 2004.
Barbara's Ahnentafel was updated on 26 June 2004.
The Feline Picture Gallery was updated on 2 July 2004 to include a picture of "The Littlest Laker Girl."
A Mayflower Line was created on 14 July 2004, documenting the lineage from Gov. William Bradford of the Mayflower to Sybil Chapin (1768-1859), wife of Thomas Metcalf (1764-1827) and the author's third-great grandmother.
The Genealogy Picture Gallery was updated on 8 October 2006 correcting some typos and including two new pictures: the Metcalf home site and the Fairbanks house, both in Dedham, Massachusetts.
The Oberwinder PDF Book was added on 15 May 2007 replacing the Oberwinder Preface and the Oberwinder HTML previously excerpted from the book. This PDF (151 pages with many illustrations, some in color, about 37 MBs) reproduces the entire contents of the book Die Familie Oberwinder published (in English) by the author in 1999. Due to its size, I recommend that you right-click (control-click on a Mac) on the link and choose "Download Linked File" (or the equivalent) to download the PDF file to disk and then launch the downloaded file.
Thomas with Sources, a six-generation register of Thomas Metcalf (1764-1827) of the seventh generation, was updated on 25 February 2009 to illustrate the inclusion of source citations and pictures. In the text of the register, a thumbnail of a picture is shown following a person's notes. To view the picture at full size in a new window, just click on the thumbnail. Descendants who may still be living have been suppressed.
Metcalf Register, a five generation Register of the descendants of Rev. Leonard Metcalf, Metcalf GEDCOM, a "barebones" GEDCOM of Rev. Leonard's descendants for ten generations, and the corresponding List of Surnames were updated on 26 February 2009 to include the latest corrections and additions.
Howard's Ahnentafel was updated on 27 February 2009.

Barbara's PDF Book was created on 1 August 2010. This links to a PDF of Forty North, the 1997 book about Barbara's ancestry, and related PDF updates to the book.
Photos taken at the author's high school Class Reunion in Maryland were posted on 23 September 2006 and the web page updated on 4 July 2011.

PAWriter II (MacOS) version 103 was posted on Wednesday, 26 February 2014 and updated on 29 September 2016.

About My Father was posted on Thursday, 29 September 2016.
---